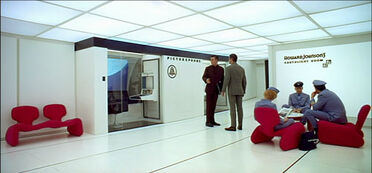 In addition to being quite common in homes and businesses in industrialized areas on Earth, public
Picturephones
are also located in areas on
Space Station V
.
The ones on the station are located in booths with sliding doors and a chair. To use them, the caller inserts a card into a slot, possibly a telephone calling card or a payment authorization card such as a credit card or debit card, or a prepaid phone card. (At the time the movie was made, the most likely cards would have been a telephone company 'credit card'.)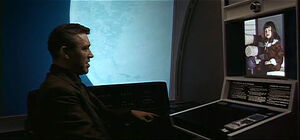 Heywood Floyd is observed placing a telephone call to his home in the United States, dialing either 11 or 12 digits. The first digit was clearly not a zero, as is common† on Earth for international phone calls in the early 21st century. It may be that on-station calls were made using a short number, but that calls off the station were made by simply dialing the country code followed by the number, with no prefix digit; if this is the case, then Floyd probably dialed 1‡, his area code and number. Alternately, all calls are dialed in this manner, so an on-station call (e.g. one office calling another on board) would require the caller to dial the station's own country code followed by the local number (probably a three-digit country code followed by a four-, five- or six-digit number).
(† Most countries in the world now use 00 as the international calling prefix; North America uses 011; Russia -- and the Soviet Union before 1992 -- use 8-10; there are some national variations in other countries. Floyd was not seen pushing the zero as the first digit.)
(‡ 1 in this usage, as the North American Numbering Plan (NANP) country code, is not to be confused with the trunk dialing digit of 1 commonly used within the NANP for long distance calling. In this usage, 1 is used to dial into the NANP, 44 to dial into the United Kingdom, 81 to dial into Japan, 353 to dial into Ireland, etc.)
Ad blocker interference detected!
Wikia is a free-to-use site that makes money from advertising. We have a modified experience for viewers using ad blockers

Wikia is not accessible if you've made further modifications. Remove the custom ad blocker rule(s) and the page will load as expected.